Replace your PC with the RX300
Cloud-Ready Thin Client for Windows
NComputing has delivered more than 3 million low-cost thin clients worldwide. Our latest, the RX300, is built for productivity using the latest Raspberry Pi 3 platform.
Designed and optimized specifically for NComputing's award-winning vSpace Pro desktop virtualization solution, the RX300 is cloud-ready and provides a rich PC-like experience. RX300 features full-screen, full-motion HD multimedia playback with vCAST direct streaming technology support, built-in transparent USB redirection achieving unparalleled peripheral support, WiFi, and optional access to Linux Raspbian OS managed by the IT admin.
The RX300 provides a simple-to-deploy, centrally managed, high-performance virtual desktop, perfect for use in SMB and education.
Lowest Initial Cost of any NComputing Thin Client
Provisioned access to both vSpace and Raspbian Linux OS
Centralized Management
Transparent USB Redirection
Dual monitor capability
Less than 5W power consumption
DELIVER THE LATEST WINDOWS DESKTOP EXPERIENCE
Fully optimized for vSpace Pro 10, RX300 delivers virtual desktops from 9 popular Windows operating systems, including Windows 10 and Windows Server 2016.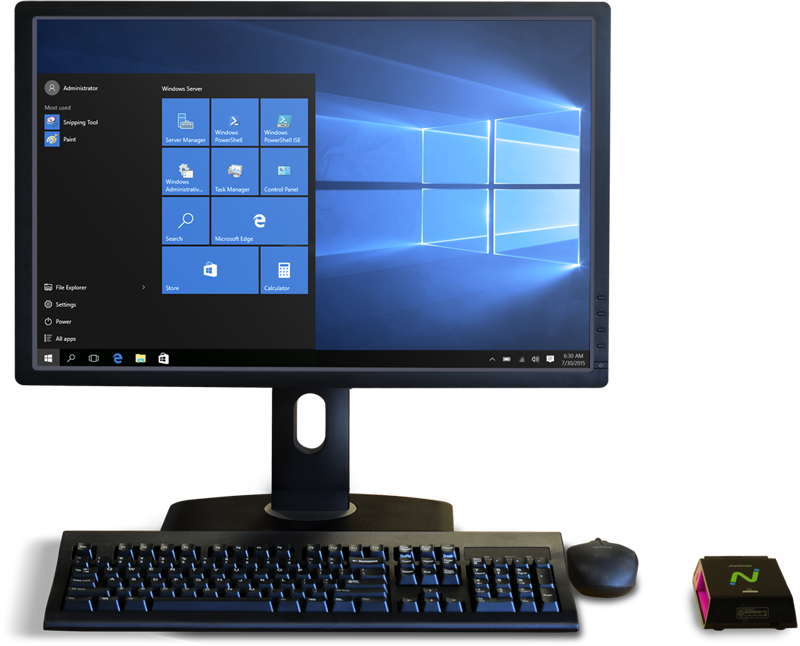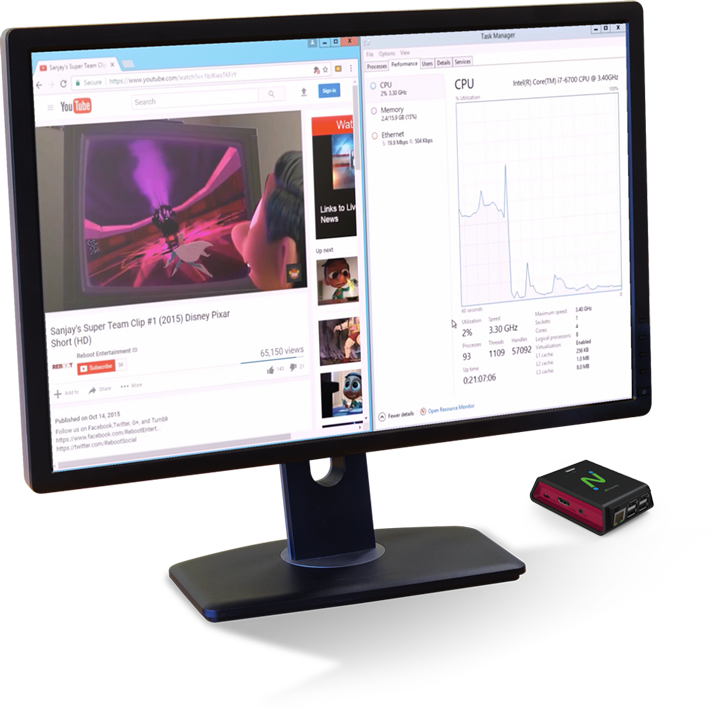 Cloud-Ready with vCAST streaming support
vCAST reduces the overall server-side CPU usage when watching web videos like YouTube or your local media content without the need for expensive GPUs. This allows for higher quality media streaming utilizing network bandwidth without CPU bottlenecks, thereby supporting more concurrent users.
CENTRALIZED MANAGEMENT & EXPRESS DEPLOYMENT
The RX300 is easy to configure and automatically receives updates from deployed vSpace Pro 10 servers. Administrators may define a device template with all settings and configurations, then clone and push it to new devices. All can be centrally managed and provisioned by the IT admin with vSpace Pro, allowing control of hundreds of RX300 devices with just a few clicks. Users are always up-to-date with the latest technology.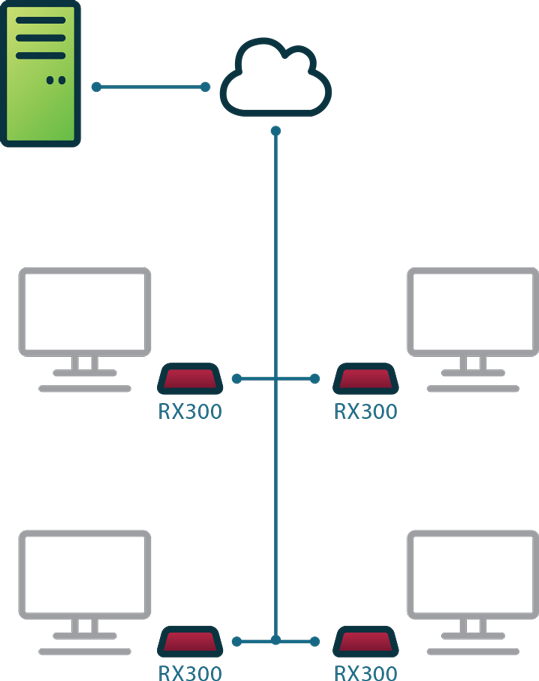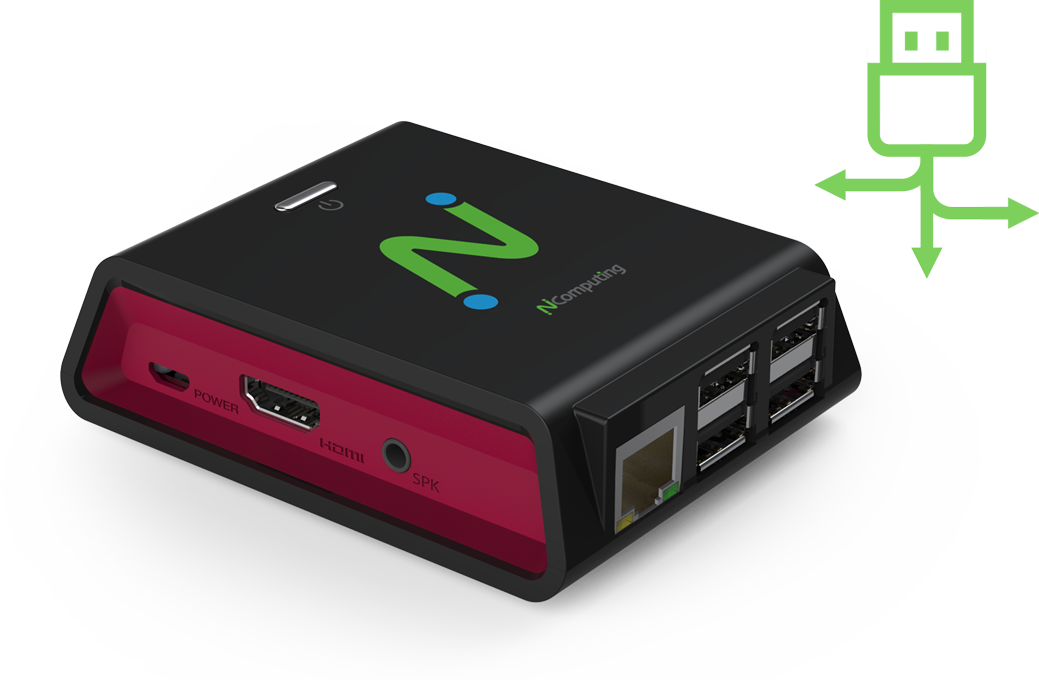 BROAD USB PERIPHERAL SUPPORT
With integrated transparent USB redirection, RX300 utilizes device drivers from the server side to provide extensive peripheral support including mass storage, printers, scanners, card readers, headsets or speakers, webcams, and COM ports in addition to the standard keyboard and mouse.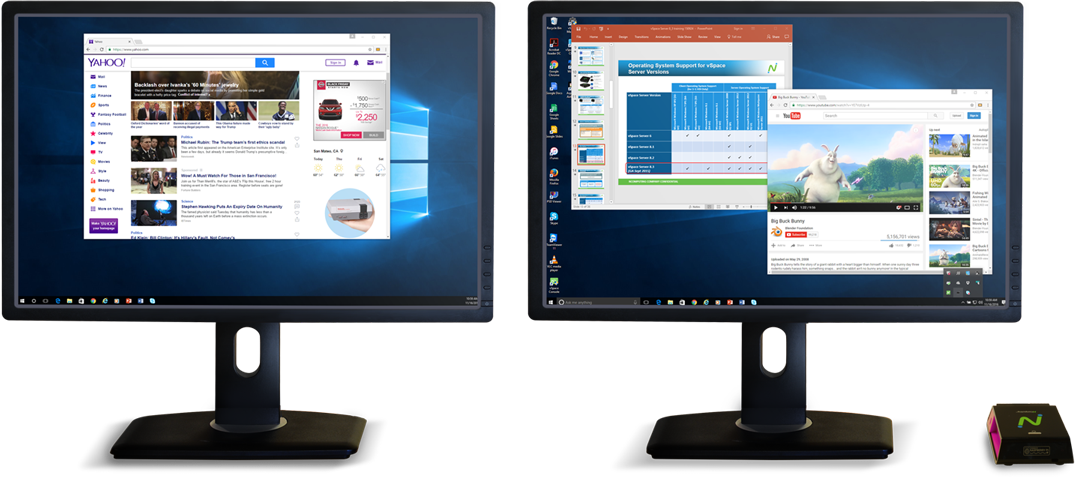 DUAL MONITOR DISPLAY CAPABILITY
With secondary display capability via NComputing's USB dongle (VGA or DVI) there is added screen real-estate for increased productivity.
Customizable flexible deployment through ethernet or Wi-Fi connections
RX300 comes with built-in 10/100 Ethernet and Wi-Fi (802.11 b/g/n). Organizations are no longer bound to the wiring infrastructure and can deploy RX300 in any location with Wi-Fi access to deliver the desktop experience.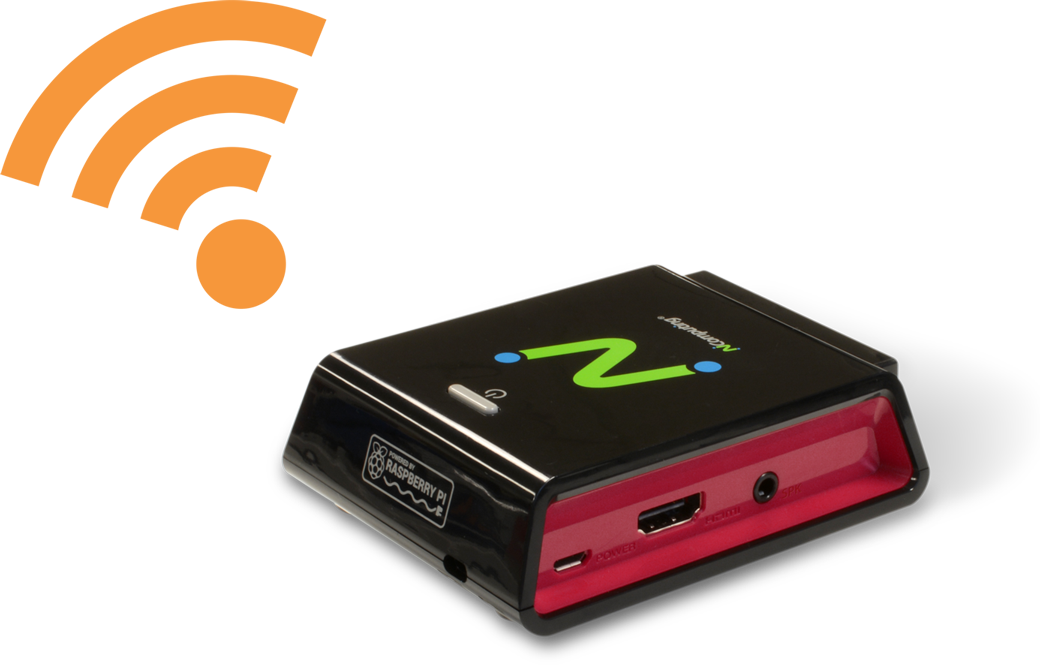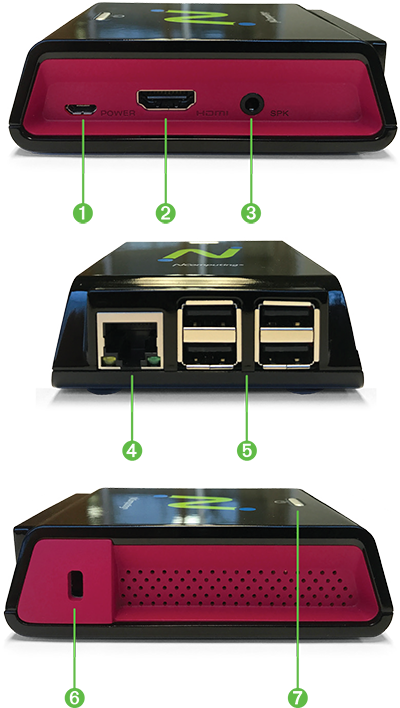 RX300 Connections
Power in (5.1V micro USB)
HDMI video output
Speaker jack (16bit/44kHz/Stereo high quality audio)
10/100 Mbps Ethernet RJ45 port
4 High-Speed USB 2.0 ports with full USB redirection support (2 required for mouse and keyboard)
Kensington security port
Sleep mode button disables display output for power saving mode
RASPBIAN LINUX MODE SUPPORT FOR ADDED FLEXIBILITY
RX300 comes equipped with both a 'Thin Client Mode' and 'Raspbian Linux Mode.' Use the RX300 as a locked down thin client with connections to vSpace Pro 10 and Verde VDI, or as a Raspberry Pi 3 device allowing direct access to Raspbian Linux OS and its popular games (Minecraft), how-to-code applications (Scratch, Python and Java) and productivity tools.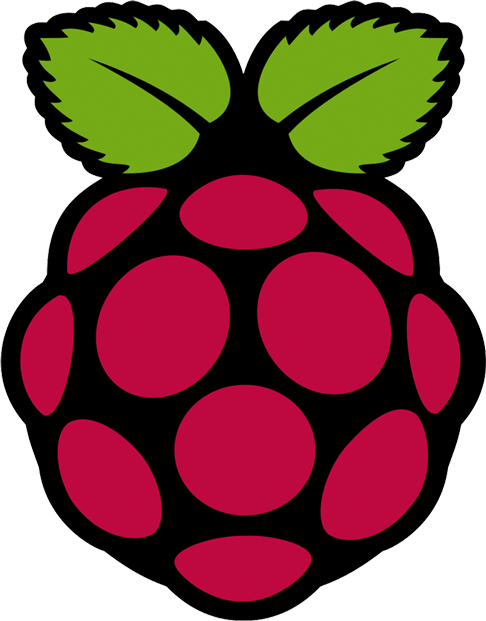 LOWEST ACQUISITION COST
RX300 offers the lowest initial cost among our thin client families. RX300 comes with a software connection license** to vSpace Pro 10 desktop virtualization software, and a 6-month trial of vCAST streaming technology, Dual Display and other premium features. Software connection license renewal for vSpace Pro 10 is required for subsequent year(s).
* Free premium feature licenses are provided with your first vSpace Pro registration
** Availability and terms may vary.
What's in the Box?
The RX300 thin client, power cord, and quick start guide.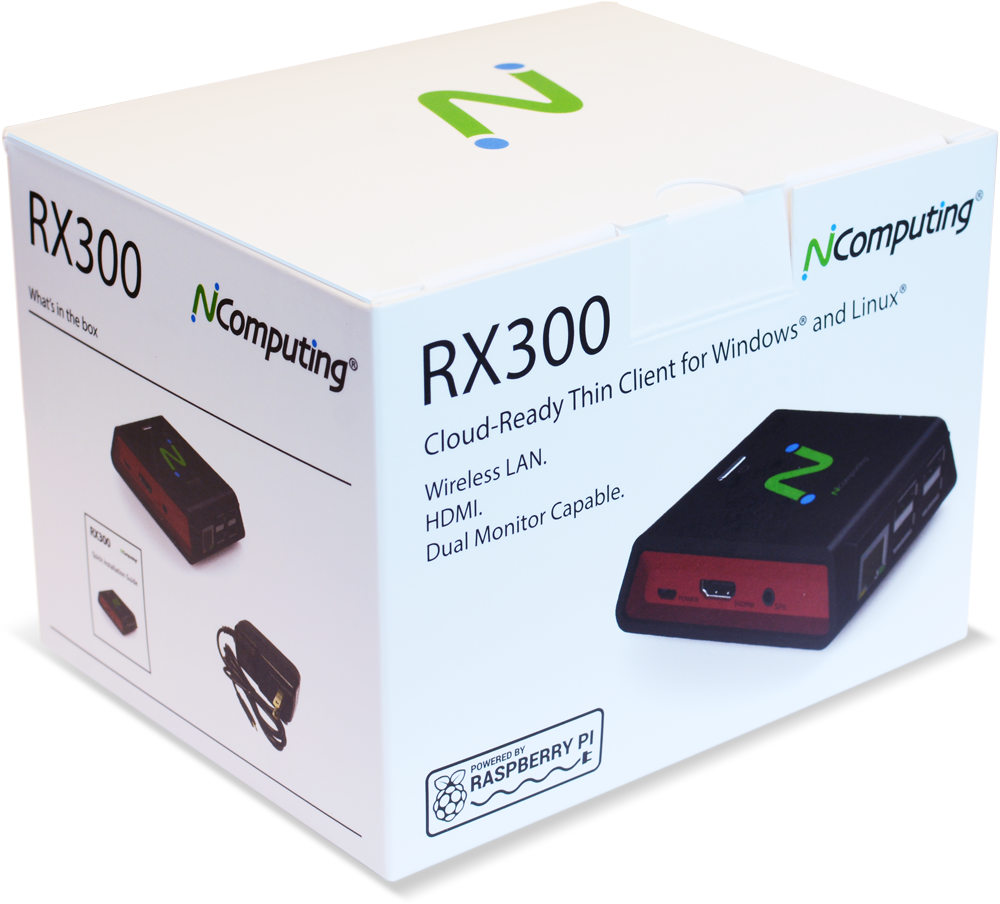 Optional Accessories
DVI or VGA Dual-Display adapters, and a VESA mount.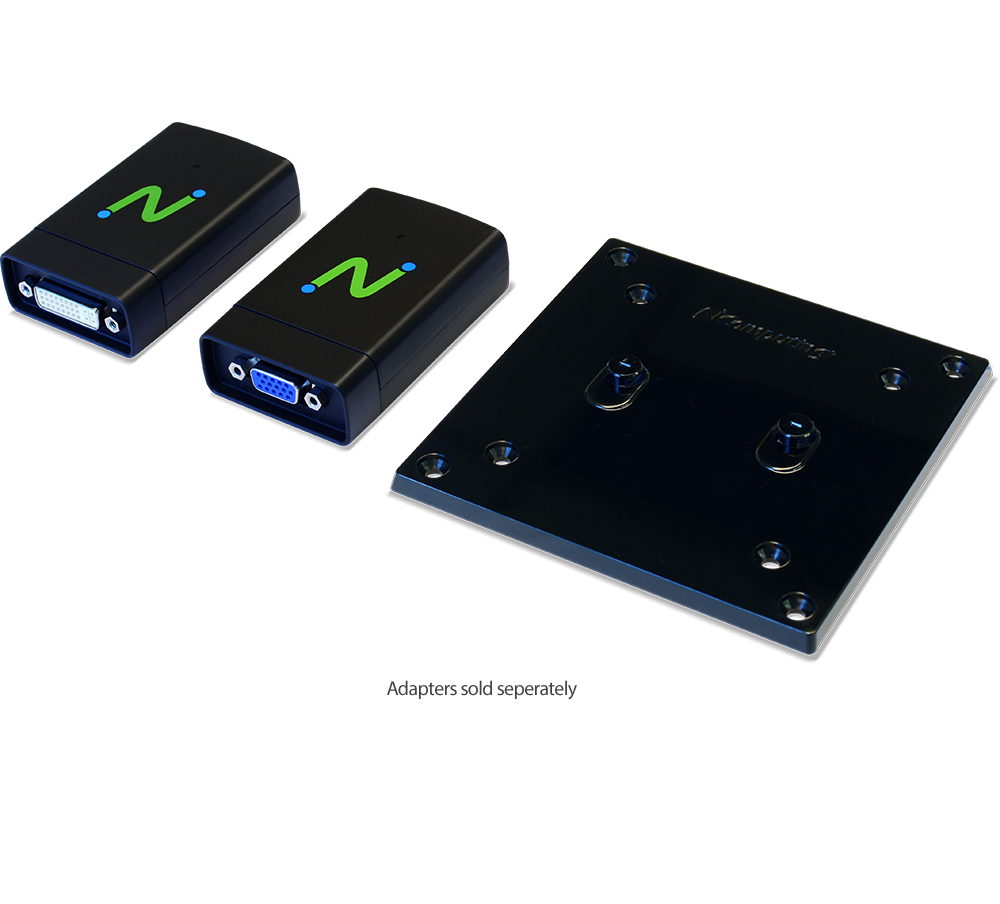 REFERENCE
Datasheets, installation guides and other resources are available below.
Why NComputing?
We are the fastest growing desktop virtualization company in the world. We serve customers large and small, in diverse markets, and with varying use cases. Our innovative and award-winning technologies give customers high performing, affordable desktop virtualization solutions tailored to their specific needs.
High Performance
Today's computers have more computing power than most users need. Rather than letting that extra power sit idle, we help you consolidate, virtualize, and distribute it to where it's needed the most.
Low Cost
Compared to an army of PCs, servers and thin clients cost less to acquire, use much less energy, and generate a fraction of the fan noise and heat PCs do. You'll save on air conditioning and noise polution as well.
Future-Proof
Introduce a new operating system without worrying about whether your PCs are technically capable of running it. Eliminate the PC refresh cycle by using durable thin clients instead of PCs at every desk. When you upgrade your server, everybody benefits.
Bring it Together
Centralize the management of your operating systems, software applications, and deployed thin clients.
Smooth Operation
Execute updates and tech support quickly and remotely without disrupting your users.
Time is Money
Reduce time spent servicing hardware by replacing PCs with thin clients, or continue to use existing PCs past their expiration dates with software clients.
Environmentally Friendly
We can't live without PCs, so let's learn how to live with them in a way that makes them friendlier to the environment. Thin clients and desktop virtualization reduce eWaste, energy use, and CO2 emissions.
Worldwide
More than 70,000 customers and 20 million daily users across 140 countries grow with the help of NComputing solutions.
Dedicated to the Cause
Bringing new technology to struggling communities, helping new startups "startup" without breaking the bank, and getting Government and the Enterprise streamlined on Simple, Powerful, and Affordable desktop virtualization solutions remains our focus and passion. Compute smartly.